| | |
| --- | --- |
| Posted by honsecretary@oakmeadians-rfc.com on March 30, 2015 at 6:45 AM | |
Oaks Ladies commit their legs to riding 2 static bikes continuously for 12 hrs for local rugby club!
Oakmeadians Ladies are a bunch of crazy, fun Ladies whom joined together to play the wonderful sport that is rugby!
In Jan 2015 in our local rugby community a Dorset and Wilts rugby union referee suffered a heart attack whilst refereeing a game of rugby. If it were not for the brave acts of the players AND the defibrillator that they had to hand he may have lost his life.
As such Oaks Ladies strongly believe that all rugby clubs should be equipped with a defibrillator, in such cases as above.
https://www.indiegogo.com/projects/oaks-ladies-raise-heart-beats-for-defibrillators" target="_blank">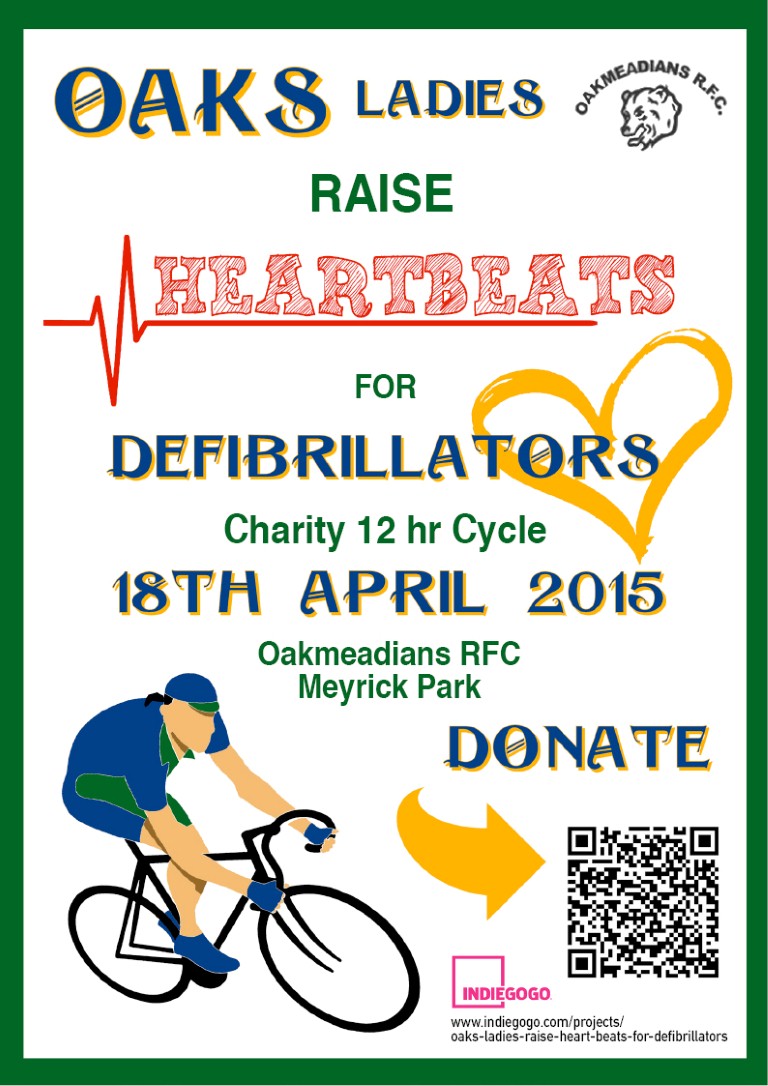 We are a very passionate team...particularly around the game we love so much. Our season ended.....with victory I may add!!! Earlier than normal, as a result we have decided to commit ourselves to another great cause.
We intend to spend our time raising money for a defibrillator for our club, Oakmeadians RFC. Oaks isn't just about a game, it's about friendship, family and loyalty. It's a place where we go not only to make some smashing tackles (like Lawes vs France) but where we go to have fun, cheer on our sides from touch, to minis, to men's......you name it we do it. Our club and our members are important and that is why we want to get the funds to keep them safe in times of crisis with a defibrillator.
HOWEVER ...... Why stop there??? Rugby is about community and we want to raise enough money to get our club and two more clubs in the local area defibrillators. The ideal plan would for all Dorset and Wilts rugby clubs in the area to have one....so any extra money we make we will be extending this to more and more clubs.
So on 18th April 2015 Oaks Ladies, at their beloved club Oakmeadians RFC, will be raising their heart beats by continually riding two static bikes for twelve hours.
Please donate what you can......every penny counts. This is not just for our club but for our rugby community.
THANK YOU